Return Policy
At Aryak Store, we believe that your shopping experience matters the most to us. We strive to provide products of the highest quality. Anything you purchase from Aryak Store should arrive in pristine condition. If you feel that anything in your order is damaged or defective, please contact our customer care team immediately. You are welcome to return your products within 7 days of receipt.
What You Need To Know
1-You may return any item that is not marked "Clearance Sale" within 7 days of receipt.
2-We cannot process exchanges. If you require a different size, please initiate a return to send back the item that you're not satisfied with. Once a return has been initiated, you may place a new order for your desired item.
3-Cancellations can only be done within the "Pending" status. After the status changes to "Payment Received", cancellations cannot be done.
4- These conditions need to be met for us to process a return:
WANT TO RETURN AN ITEM?
Returning items is easy, Just use our returns wizard, Make sure your item in returnable with the following checklist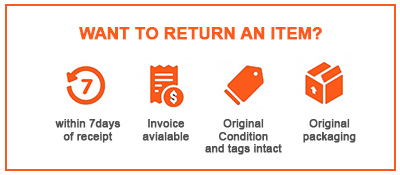 HOW TO DO A RETURN
Fill the return from online or use the return slip
Pack items
Drop-off
Email Notification
For your convenience, we offer different return options for you to choose from:
1-A full refund as store credits.
2-Replacement for a wrong or defective product sent.
Aryak Store is a marketplace and we work closely with many of our partners. As they may have terms that are not within Aryak Store's control, our partners have the right to refuse exchanges, returns, and refunds based on the terms stated on the product page.
Incorrect Or Defective Items
Sorry! We want to do the best we can but there are times that mistakes are made. Got something else or the item is defective? Drop us an email or call with the following details:
Your order number
How we messed up (eg. incorrect/defective item)
The SKU code found on the product tag or product packaging
Pictures or videos, whichever applicable.
Our Refund Process
We know it's important to process your refund and we wish to do it as quickly as possible. Once we have received and inspected your returned product, you can expect to receive your refund within 5-10 business days. We'll get in touch with you via email or phone once we've received your return and the refund has been processed. Items that are returned must be in good condition and in original packaging.
Get In Touch
If you are still uncertain, need assistance, or have any questions about your return, refund or need instructions on how to return an item, please contact our Customer Care team. *We're happy to help!
Reach us by email at hello.aryak10@gmail.com or by phone at +855 89 353 225. Our dedicated team is available Monday to Saturday from 9:00 am to 9:00 pm. We would appreciate if you have your account information handy when getting in touch. We wish to offer you the best service possible, please allow up to 48 hours for an email response.
Please Note:
Aryak Store reserves the right to withhold any refunds if your returned item has not reached our warehouse.
If your exchanged item is no longer available, we will proceed to refund you fully in-store credits.
Shipping fees are non-refundable.
Returns, exchanges, and refunds cannot be done beyond the 7 day period.